In 2009, Spruce Meadow Farm in Clarence, NY conceived an idea that was founded on their devotion to horses, and teaching children to love and care for them. That idea sparked the founding of Phoenix Rising Equine Rescue, a 501c3 organization dedicated to the care and rehabilitation of horses, based on the same passion that had made Spruce Meadow Farm a success.

Since 2009, many rescued horses have benefited from the program finding them new homes, productive roles, or offering them sanctuary and care. Phoenix Rising's rescues consist mainly of horses that have been injured, abused, neglected, abandoned or orphaned.
Great Nutrition and a Strong Spirit
One of the first goals when a horse joins the program is to address their nutrition, especially for those who have been malnourished, or have previously ignored medical conditions. With a variety of cases, and horses coming from many different situations, they often need specialized nutrition plans to set them back on the right track to a healthy future.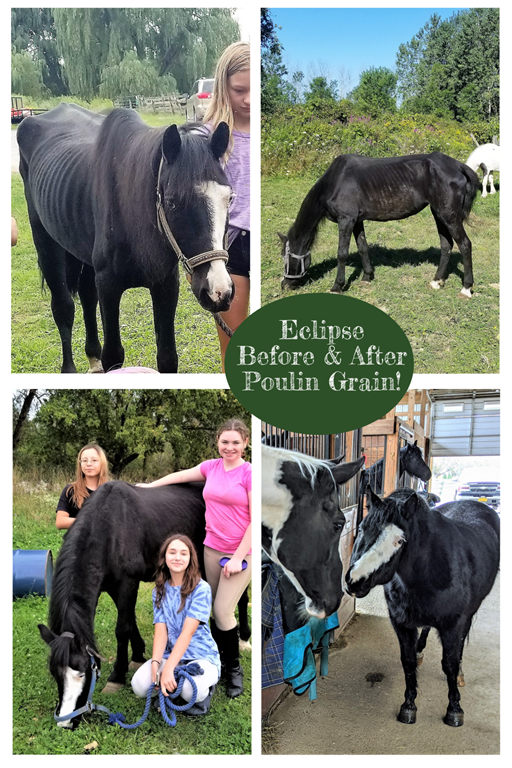 One such example, is rescue pony "Eclipse" who was found locked in a rusted out 2-horse trailer with very little care for months.  From a body condition score of 1-2 (very emaciated), Phoenix Rising has been able to bring this 13 hand pony back to healthy condition. "She has the strongest spirit of any horse I have met…. she is indomitable!" Says Karla of Phoenix Rising.   After being under the rescue's care for only a week, Eclipse jumped the pasture fence when her paddock companion was brought in from turnout. "She is a true warrior and so funny, curious and brave. Nothing scares her!"
Helping Hands
Years ago, Phoenix Rising met Poulin Grain feed specialist Dan Wright, and Jeff from local Langridge Supply, and their relationship has been vital to the rescue's success ever since. "Poulin Grain has made a HUGE difference in our horses. The regulars look amazing and we are able to get the new rescues in shape in short order," says Karla. With 45 horses at the farm, the rescue was spending valuable time and money finding the necessary products for their herd. After teaming up with Poulin Grain and Langridge Supply, Karla says the process is much smoother: "There is a wide variety of quality products for our rescue horses, who often need specialized diets – particularly when they first arrive. We also have several older and special needs horses. I used to have to go to a couple different places to get the products I needed. Now I can have everything I need, provided in just one delivery!" She also states "I can't stress enough the friendly, professional, reliable service we get… [Jeff] even texts me to check in if I forget to place my bi-weekly order!"
Become a Supporter
Phoenix Rising provides care and rehabilitation for their rescue horses through the contributions of supporters, and many yearly fundraisers. Unfortunately, due to the COVID-19 pandemic, many of these crucial fundraisers had to be cancelled. If you wish to contribute to the rescue's mission, donations can be made online at helpsavehorses.org or by mailing to:
Phoenix Rising Equine Rescue
10333 Keller Road, Clarence, NY 14031
You can find Phoenix Rising Equine Rescue on Facebook here.
Photos courtesy of Phoenix Rising Equine Rescue.
Poulin Grain Products Used at Phoenix Rising:   Decade Endurance Sport, E-TEC Fibre-Max, Forage Extender, Equi-Pro Premium Senior

---

If you would like to learn more about Poulin Grain's complimentary forage analysis, diet balancing for your horse, and other personalized services, please visit www.poulingrain.com or call 800-334-6731 to speak to a feed specialist near you!