Gervais Family Farms has been producing high quality milk for decades, and they recently became a pioneer in a new program aimed to ensure that all of their farm's milk and meat is safe. The below was written by Kati Lawyer-Hale, a partner at Gervais Family Farms, about the steps they take to guarantee that antibiotics never make it into the food supply. We partnered with Kati and the Gervais family to help them tell their story.
There are zero antibiotics in the milk and meat that your family and ours buy in the store. Just like with human medicine, antibiotics and other medicines are used sparingly on dairy farms, and only when a veterinarian prescribes them to an individual cow to treat an illness. I farm with my uncles and grandparents at Gervais Family Farms, a 3rd generation family dairy farm in Enosburg, Vermont, and we take extra precautions to keep our cows healthy and our milk safe.
For both organic and conventional farms, it is illegal to sell milk or meat from a cow while she is being treated with antibiotics or other drugs. That's why a drug residue violation is every farmer's worst fear. If our meat or milk has any drug residues (i.e. when it is determined that the milk or meat came from a cow that was receiving medication), it is deemed unsafe and will be discarded. It will never enter the food chain. That would be like working all week and not receiving a pay check. I take multiple precautions to make sure that a cow receiving antibiotics is never milked into the bulk tank with the healthy cow's milk, and recently we took this a step even further by joining the Food Armor program.
When my veterinarian, Dr. Jen Hull, a partner at Northwest Veterinary Associates, mentioned Food Armor, I was very interested right away. Jen visits our dairy weekly to ensure that our cows are healthy and that they are producing safe and healthy milk. While Jen is visiting the farm, we discuss ways to take cow health and food safety to the next level. The Food Armor program is an example of one of the many ways that we stay progressive to give our cows the best care that we can, and to guarantee that the milk we sell is the highest quality.
Food Armor is about dairy farmers and veterinarians working together to ensure safe meat and milk. It helps to increase communication between the farmer and herd veterinarian. Most of the program is about developing or updating protocols and procedures for every vaccination, medication, or antibiotic that could potentially be used on the farm. It is extremely in-depth. The Food Armor program is a Hazard Analysis and Critical Control Points (HACCP) plan for proper drug use on farm. Proper implementation of this program will ensure food safety, as well as transparency and accountability for appropriate drug and vaccination use on a farm. The program is about identifying potential weaknesses on the farm and turning them into strengths. And it's not just about antibiotics – it includes preventative measures like mineral supplements and vaccinations, which keep cows healthy and minimize the need to use antibiotics in the first place!
Vermont has been extremely forward thinking in helping family farms like mine to be a part of this program. Any farm can join – there are currently large and small farms, and organic and conventional farms participating. The benefit is that you can take the program and adapt it to the individual farm needs, empowering the farmer and veterinarian team.
I'm so glad that we have a great relationship with our veterinarian – in fact it's even better than my relationship with my own doctor! This allows us to give our cows 110%, and to provide healthy and safe milk for our family, your family, and for our community.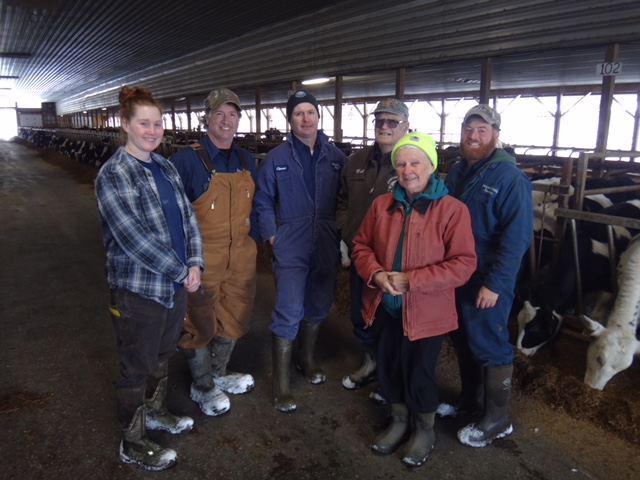 Three generation of Gervais Family Farm, from left, Kati Lawyer-Hale, Larry Gervais, Clement Gervais, Robert Gervais, Gisele Gervais, and Paul Gervais. Photo taken by Kati Laywer-Hale.

---


poulingrain.com | 800.334.6731