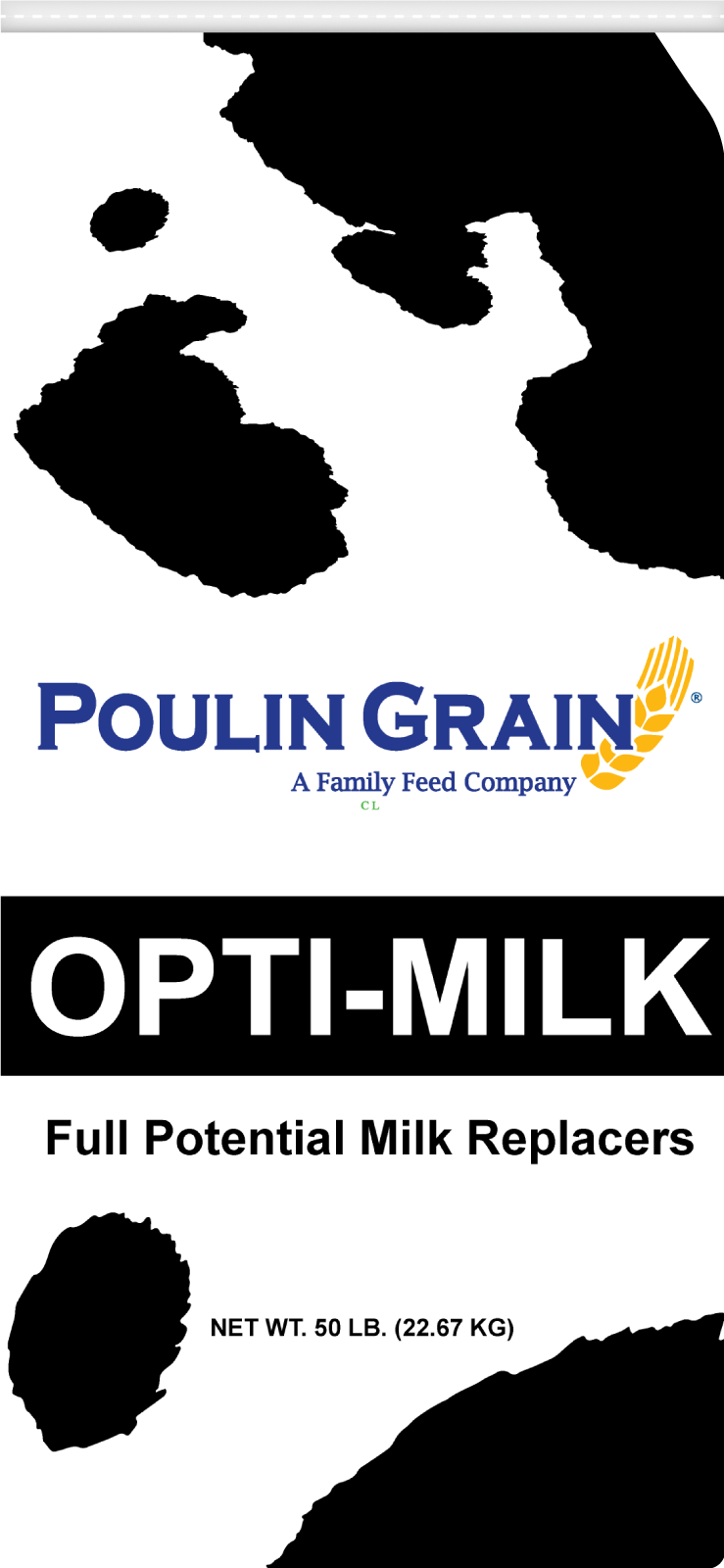 OPTI-MILK Essential 22.5:20
Full potential calf milk replacer with all the essentials for a healthier today and a more productive tomorrow.
To be fed to herd replacement calves for control of coccidiosis caused by Eimeria bovis and Eimeria zuernii.
Protein/fat content to support optimal digestibility and maximum daily gain.

Highly digestible source of medium-chain fatty acids allow for maximum energy to be quickly allocated to growth and development.

Fortified with essential vitamins and minerals, including readily absorbed selenium.

Includes plasma, a highly digestible source of functional proteins, which enhance immunoglobulin levels for optimal intestinal environment and protection against disease causing pathogens.

Formulated with yeast extract probiotic to develop and support a healthy gut microbiome and increase nutrient absorption.

Homogenized small particle size for easy digestion.

Agglomeration technology provides superior mixability and more even suspension.

Contains Bovatec® for the control of coccidiosis

Seasonally formulated with ClariFly® to help decrease fly populations
(Bovatec® is a registered trademark of Zoetis, ClariFly® is a registered trademark of Wellmark International)
Guaranteed Analysis
| | | |
| --- | --- | --- |
| Crude Protein | (Min) | 22.50% |
| Crude Fat | (Min) | 20.00% |
| Crude Fiber | (Max) | 0.10% |
| Calcium | (Min) | 0.75% |
| Calcium | (Max) | 1.25% |
| Phosphorus | (Min) | 0.70% |
| Vitamin A | (Min) | 35000 IU/LB |
| Vitamin D3 | (Min) | 10000 IU/LB |
| Vitamin E | (Min) | 150 IU/LB |
| Lasalocid | (Bovatec®) | 30.00 mg/lb |
| Seasonally formulated with Diflubenzuron | (ClariFly®) | 9.1g/ton |
Feeding Instructions
MIXING DIRECTIONS:
Add 1.1 lb of milk replacer powder to warm water (110-115°F), while mixing thoroughly. Bring final solution to 4 qts (1 gallon), mix or whisk solution thoroughly and feed immediately.
Weigh MR powder every feeding for accuracy and consistency. Weight by volume and lot varies.
OFFER FREE CHOICE WATER FROM DAY 2
FEEDING DIRECTIONS:
Hand feed at a rate of 1 mg of lasalocid per 2.2 lb of body weight per day.

One pound of this milk replacer powder will medicate 50 lbs of body weight.

When preparing large batches (i.e., anything other than individual calf servings) keep the mixture agitated while dispensing into individual feeding containers to prevent settling.

Large breeds (145#): Feed 4 quarts (1 gallon) reconstituted milk replacer (100°F) twice daily. Adjust amount fed based on calf body weight.
The safety of Lasalocid in unapproved species has not been established. Do not allow horses or other equines, dogs or cats, access to feed containing lasalocid as ingestion may be fatal.
A withdrawal period has not been established for Lasalocid in pre-ruminating cattle. Do not use in calves to be processed for veal.
CALF CARE RECOMMENDATIONS
Feed large breed calves 4 quarts of high quality colostrum within 2 hours of birth and again 12 hours later. Adjust amounts for small breed calves. If colostrum quality or quantity is low, consider using a colostrum supplement or replacer.

Begin feeding milk replacer on day two.

Begin feeding calf starter free-choice in the first week. Feed a small amount at first and replace daily.

Calves can be weaned from milk replacer successfully when intake of calf starter reaches 2 pounds daily for 3 consecutive days.

Environmental conditions may alter feeding rate. See your nutritionist for details.
Ingredients
Dried whey product, dried whey protein concentrate, dried whey, animal fat (preserved with BHA & BHT), animal plasma, lecithin, coconut oil (preserved with BHA and BHT), L-lysine, DL-methionine, calcium carbonate, calcium silicate, yeast extract, L-threonine, vitamin E supplement, dried skimmed milk, ascorbic acid, choline chloride, ferrous sulfate, natural and artificial flavor, zinc sulfate, vitamin A supplement, manganese sulfate, selenium yeast, copper sulfate, vitamin B12 supplement, ethoxylated mono and diglycerides, propylene glycol, niacin supplement, biotin, vitamin D3 supplement, calcium pantothenate, riboflavin supplement, menadione sodium bisulfite complex (source of vitamin K activity), pyridoxine hydrochloride, thiamine mononitrate, folic acid, ethylenediamine dihydroiodide, cobalt sulfate
Product and Dairy Resources
Related Products